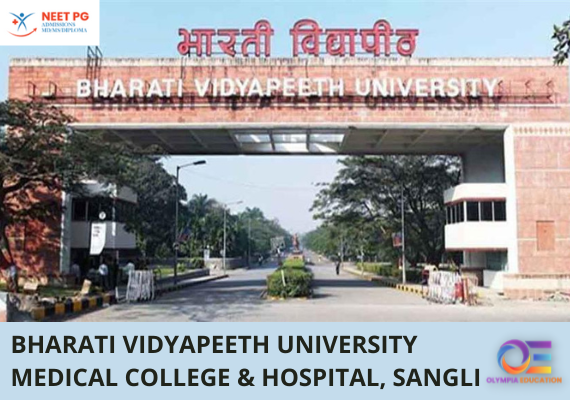 The Bharati Vidyapeeth University Medical College & Hospital, Sangli, also known as the B.V.D.U. Medical College, Sangli, is one of the best medical colleges in Sangli, Maharashtra. It was established in 2005. This college is a constituent college of Bharati Vidyapeeth. Currently, 150 M.B.B.S. students are admitted each year. The college also offers Postgraduate Courses, admitting 67 students each year in 17 departments.
>
The college is housed in a multi-story, well-ventilated, spacious building measuring 2.5 lakh square feet. The institute is well-equipped with laboratories and state-of-the-art museums and has established itself as a center for academic excellence.
The hospital has a total of 780 beds, including 51 adult ICU beds, 10 PICU beds, and 12 NICU beds. All ICUs have cutting-edge technology and dedicated staff. We have an excellent team of superspecialists to supplement our basic specialties, and we believe in providing the best care possible at an affordable price. The hospital accepts various schemes and insurances and provides cashless services.
Basic Details
| | |
| --- | --- |
| Name of college | Bharati Vidyapeeth Deemed University Medical College & Hospital, Sangli |
| Location | Miraj Rd, Wanalesawadi, Vijayanagar, Sangli |
| Establishment year | 2005 |
| Institute type | Deemed |
| Affiliation | Bharati Vidyapeeth University (Deemed), Pune |
| Approval | National Medical Commission (NMC) |
| Website | Official Website |
| Gallary | Visit |
PG Courses Details
Bharati Vidyapeeth Medical College (BVMC) Sangli provides top-notch medical programs under the direction of a highly qualified college and cutting-edge facilities. Below are all the details about the course like seat availability, duration of the course and fees. Fees vary with courses.
| Courses | Duration | Seat Capacity | Fees |
| --- | --- | --- | --- |
| MD Anatomy | 3 Years | 3 | 7,00,000/- |
| MD Anaesthesiology | 3 Years | 4 | 21,00,000/- |
| MD General Medicine | 3 Years | 5 | 23,10,000/- |
| MS Orthopedics | 3 Years | 3 | 23,10,000/- |
| MS Community Medicine(PSM) | 3 Years | 6 | 7,50,000/- |
| MD Pathology | 3 Years | 6 | 14,00,000/- |
| MD Radio Diagnosis | 3 Years | 3 | 35,00,000/- |
| MS ENT | 3 Years | 3 | 21,00,000/- |
| MS Obs & Gynae | 3 Years | 8 | 23,10,000/- |
| MS Ophthalmology | 3 Years | 4 | 21,10,000/- |
| MS Dermatology(DVL) | 3 Years | 1 | 35,00,000/- |
| MD Psychiatry | 3 Years | 1 | 21,00,000/- |
| MS Pharmacology | 3 Years | 2 | 7,50,000/- |
| MS Microbiology | 3 Years | 3 | 7,50,000/- |
| MD Pediatrics | 3 Years | 6 | 23,10,000/- |
Facilities
Hostel and Hostel fees
The hostel in BVDU has decent hostel facilities. Boys and girls have separate housing options, and each hostel has a warden overseeing daily operations. As part of the hostel fare, each hostel has its mess that serves sanitary and nourishing meals three times each day with a diversified menu that pleases a variety of palates. Every area has been planned to offer enough space for movement and lots of air and light.
| Courses | Fee |
| --- | --- |
| MS | 60,000/-(Food and AC Not Included) Yearly |
| MD | 60,000/-(Food and AC Not Included) Yearly |
Library
The College offers a modern library with a top-notch interior designed to create a great library ambiance. The library is well-stocked with many volumes by Indian and foreign writers and numerous National and International journals. It is spread over 8700 sq. ft area.
Library timing is divided into 3 parts
Circulation: 9:00AM to 4:30PM
Reading Room: 9:00AM to 8:30PM
Internet section: 9:00AM to 8:30PM
Total No. of Books and Journals
Total No Of Books: 5,163
Total No Of Titles: 1511
Total No Of Text Books: 3652
Total No of CD-ROM: 307
The Total No Of Journals Subscribe annually: 55
Total No Of Indian Journals: 21
Total No of International Journals: 34
Total No ofVolumes-Bound Journals: 1,829
Learning Centre
The learning center is a cluster of amenities made using hi-tech technologies, so students can learn with new-age technology.
Here are the list of Learning Centres.
Classrooms
Demo Rooms
Laboratories
3D Cyber Anatomy
Clinical Areas
Field Visits
Demo Room
All the preclinical and paraclinical departments have two demo rooms, each with 80-90 seating capacity and audiovisual aids.
Common Rooms
Separate well-furnished common rooms for boys and girls with attached toilets having 100 seating capacity each have been provided in the college block.
Sports and Events
Facilities for indoor and outdoor games like table tennis, badminton, football, basketball, Volleyball, Cricket, Hockey etc., are available at BVDU.
Every year, the college organizes an event named Pratibimb. Pratibimb includes competitions in various events like Singing, Dancing, Anchoring, Drama and many more.
Transportation
BVDU runs bus services for the students who reside at their homes or outside the hostel. The fleet of modern buses is fitted with new-age technology like CCTV and Wi-Fi for safety and easy accessibility to the Internet.
Bharti Vidyapeeth, Sangli, is 40 km away from NH-4 from Peth Naka Pune-Banglore highway, and the nearest Railway station is Miraj, which is 4kms and 5 km from Sangle railway station.
Gym
Bharti Vidyapeeth has a fitness center on campus for the students. Every student has to be mentally and physically prepared. Students can come to the health columbarium after their instructions are done.
More facilities are available are given below.
24 x 7 CCTV surveillance system.
Hygienic mess facilities.
Lift facility with backup.
24 x 7 hours uninterrupted power supply.
24 x 7 Ambulance facility.
Laundry facility.
Two wheeler parking.
Newspapers and magazines provided to students on demand.
Campus Tour
The List of PG Branches available in Bharti Vidhyapeeth Medical college, Sangli are:
Candidates must carry these documents listed below before filling the application form:
10th and 10+2-mark sheet along with the passing certificate.
Migration and Character Certificate.
MBBS Degree Mark Sheet.
Attempt Certificate from First to Final Graduation Course Examination.
Internship Completion Certificate.
Registration Certificate issued by NMC/State Medical Council.
ID Proof (Aadhaar Card/ PAN Card/ Passport/ Driving License).
Caste certificate (OBC/ SC/ ST).
Entrance Exam Scorecard.
Four Passport Sized Photographs.
Four Stamp Sized Photographs.
Medical Certificate.
Nationality certificate.
Proof of Registration as OCI (for Overseas Citizens of India).
AIU Certification is mandatory (for Foreign Nationals).
NOC from Ministry of Health, Govt. of India required (for Foreign Nationals).
Candidate must send/submit in person the above documents to the college office and carry the original documents along with the prescribed Tuition fees to the college for final admission procedures.
Bharati Vidyapeeth University Medical College & Hospital, Sangli, offers MD and MS programs in various specializations at the postgraduate level. Admission to MS and MD programs based on NEET score. The minimum eligibility criteria for admission in these courses require the candidate to have scored at least 50% aggregate marks in MBBS from an Institute recognized by the Medical Council of India.
So, for taking Direct Admission to "Bharati Vidyapeeth University Medical College & Hospital, Sangli for your MD/MS Course, contact us and our expert counselor will contact you soon.
Visit More Similar Colleges :