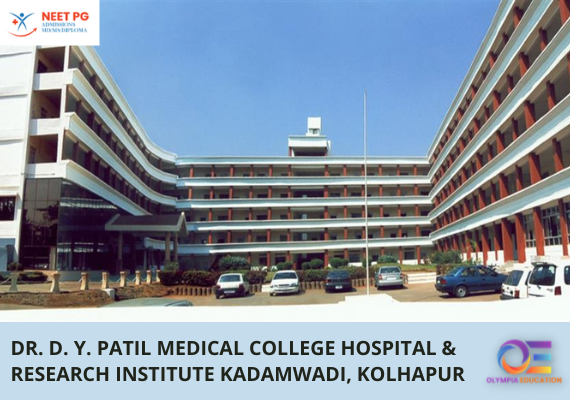 Dr D. Y. Patil Hospital and Research, Kolhapur, is also known as DY Patil Medical College. It is one of the finest medical colleges in India. It was established in 1989. D.Y. Patil University in Kolhapur has received an "A" grade from the National Assessment and Accreditation Council, and the National Medical Commission has approved the institution (NMC).
D.Y. Patil Education Society, Kolhapur, is an 800-bed multispecialty hospital with ISO: 9001-2015 certification, which provides a platform for research along with academic and clinical training.
Basic Details
| | |
| --- | --- |
| Name of college | Dr. D. Y. Patil Medical College Hospital & Research Institute |
| Location | Kadamwadi, Kolhapur |
| Establishment year | 1989 |
| Institute type | Deemed |
| Affiliation | Deemed to be University |
| Approval | National Medical Commission (NMC) |
| Website | Click Here |
| Gallery | Visit |
PG Courses Details
Below are all the details about the course like seat availability, duration of the course and fees. Fees vary with courses.
| | | | |
| --- | --- | --- | --- |
| Courses | Duration | Seat Capacity | Fees |
| MD Anesthesia | 3 Years | 6 | Rs. 22 Lakhs (Per Year) |
| MD General Medicine | 3 Years | 3 | Rs. 29.45 Lakhs (Per Year) |
| MS Orthopedics | 3 Years | 9 | Rs. 29.45 Lakhs (Per Year) |
| MD Pathology | 3 Years | 6 | Rs. 12.20 Lakhs (Per Year) |
| MD Radiology | 3 Years | 7 | Rs. 39.35 Lakhs (Per Year) |
| MD Pediatrics | 3 Years | 2 | Rs. 23.30 Lakhs (Per Year) |
| Obs & Gynae | 3 Years | 7 | Rs. 31.10 Lakhs (Per Year) |
| MS Ophthalmology | 3 Years | 5 | Rs. 27.25 Lakhs (Per Year) |
| MS Dermatology | 3 Years | 1 | Rs. 27.25 Lakhs (Per Year) |
Dr. D. Y. Patil Medical College Hospital & Research Institute provides a sum of amount as a stipend for the PG student per month that helps students manage their expenses.
Hostel and Hostel fees
The hostel at the college is tidy and clean. A two-person room is available. It's just my roommate and I, then. I assume the rooms were large because it would have been very comfortable. Our hostel in Kolhapur charges reasonable and moderate annual prices. Due to the campus's proximity to the hostel (less than 1 km), it is highly effective.
Hostel Fee:
| | |
| --- | --- |
| Courses | Fee |
| MS | Rs. One Lakh Yearly |
| MD | Rs. One Lakh Yearly |
Internship
The college offers a year-long internship following MCI regulations. Additionally, there are excellent job opportunities after the course in both the public and private sectors. The experience is also quite beneficial, and there is plenty to learn. Each year, the stipend changes.
Facilities
Library
The college's core library is built with Hi-tech technology with facilities for teacher and student reading rooms. Reading halls provide room for more than 500 students. More than 16,443 books, as well as numerous magazines and journals, are housed at the library. This organization subscribes to the majority of national and international journals necessary for teachers, undergraduate and graduate students to read.
List of Books
Total No Of Books: 14,443
Total No Of Indian Journals: 82
Total No Of International Journals: 47
Total No of Back Volume of Journals: 385
Total No Of Cds Journals: 276
Total No Of Dvds Journals: 55
Total No of Online E-Journals – ProQuest Health Research Premium E-Journals: 6050
Total No of Online E-Books – ProQuest eBrary Medical Complete E-books Collection: 12,757
One of the best things about this institute is that the campus has a Digital Library. This library is centrally located and is air-conditioned, with seating for at least 300 students to read in, sufficient lighting and ventilation, and room to store and exhibit books and periodicals is required. There will be one room inside and one outside with space for 150 students each.
There are 5000 e-Journals and 11000 e-Books are available.
Learning Centre
The learning center is a cluster of amenities made using hi-tech technologies so students can learn with new-age technology.
Here is the list of Learning Centres
Classrooms
Demo Rooms
Laboratories
3D Cyber Anatomy
Clinical Areas
Field Visits
Rural Health training Centre (RHTC)
Urban Health Centre(UHC)
Demo Room
All the preclinical and paraclinical departments have two demo rooms, each with 80-90 seating capacity and audiovisual aids.
Common Rooms
Separate well-furnished common rooms for boys and girls with attached toilets having 100 seating capacity each have been provided in the college block.
Sports and Events
Sportspersons are not only famous but also have a lot to teach us about life because sports are such a huge part of our society. We can test our limits and be the best by participating in sports. Dr. D.Y. Medical College believes in this statement, and the college organizes its annual games. Kabaddi, Basketball, Badminton and Marathon.
DY Patil Kolhapur also organizes different events and extracurricular activities. Name Youth Fest, Parampra Fest, Beauty of Flowers and many more.
Transportation
DY Patil Medical College runs bus services for the students who reside at their homes or outside the hostel. The fleet of modern buses is fitted with new-age technology.
Gym
All the students of the college have access to a gym on campus. The college focuses on the well-being of students and prepares them both mentally and physically. The health columbarium is open to students once their lectures are over.
There are more facilities are available are given below.
Auditorium
Cafeteria
Gymnasium
Doctors residence
Mess
Computer labs
Skill labs
Recreation Facilities
Campus Tour
The List of PG Branches available in Dr. D.Y. Patil Medical College Hospital & Research Institute, Kolhapur are mentioned below:
Candidates must carry these documents listed below before filling the application form:
10th and 10+2-mark sheet along with the passing certificate.
Migration and Character Certificate.
MBBS Degree Mark Sheet.
Attempt Certificate from First to Final Graduation Course Examination.
Internship Completion Certificate.
Registration Certificate issued by NMC/State Medical Council.
ID Proof (Aadhaar Card/ PAN Card/ Passport/ Driving License).
Caste certificate (OBC/ SC/ ST).
Entrance Exam Scorecard.
Four Passport Sized Photographs.
Four Stamp Sized Photographs.
Medical Certificate.
Nationality certificate.
Proof of Registration as OCI (for Overseas Citizens of India).
AIU Certification is mandatory (for Foreign Nationals).
NOC from Ministry of Health, Govt. of India required (for Foreign Nationals).
Candidate must send/submit in person the above documents to the college office and carry the original documents along with the prescribed Tuition fees to the college for final admission procedures.
Dr. D. Y. Patil Medical College Hospital & Research Institute, Kolhapur, offers MD and MS programs in various specializations at the postgraduate level. Admission to MS and MD programs based on NEET score. The minimum eligibility criteria for admission in these courses require the candidate to have scored at least 50% aggregate marks in MBBS from an Institute recognized by the Medical Council of India.
So, for taking Direct Admission to Dr. D. Y. Patil Medical College Hospital & Research Institute, Kolhapur for your MD/MS Course, contact us and our expert counselor will contact you soon.
Visit More Similar Colleges: