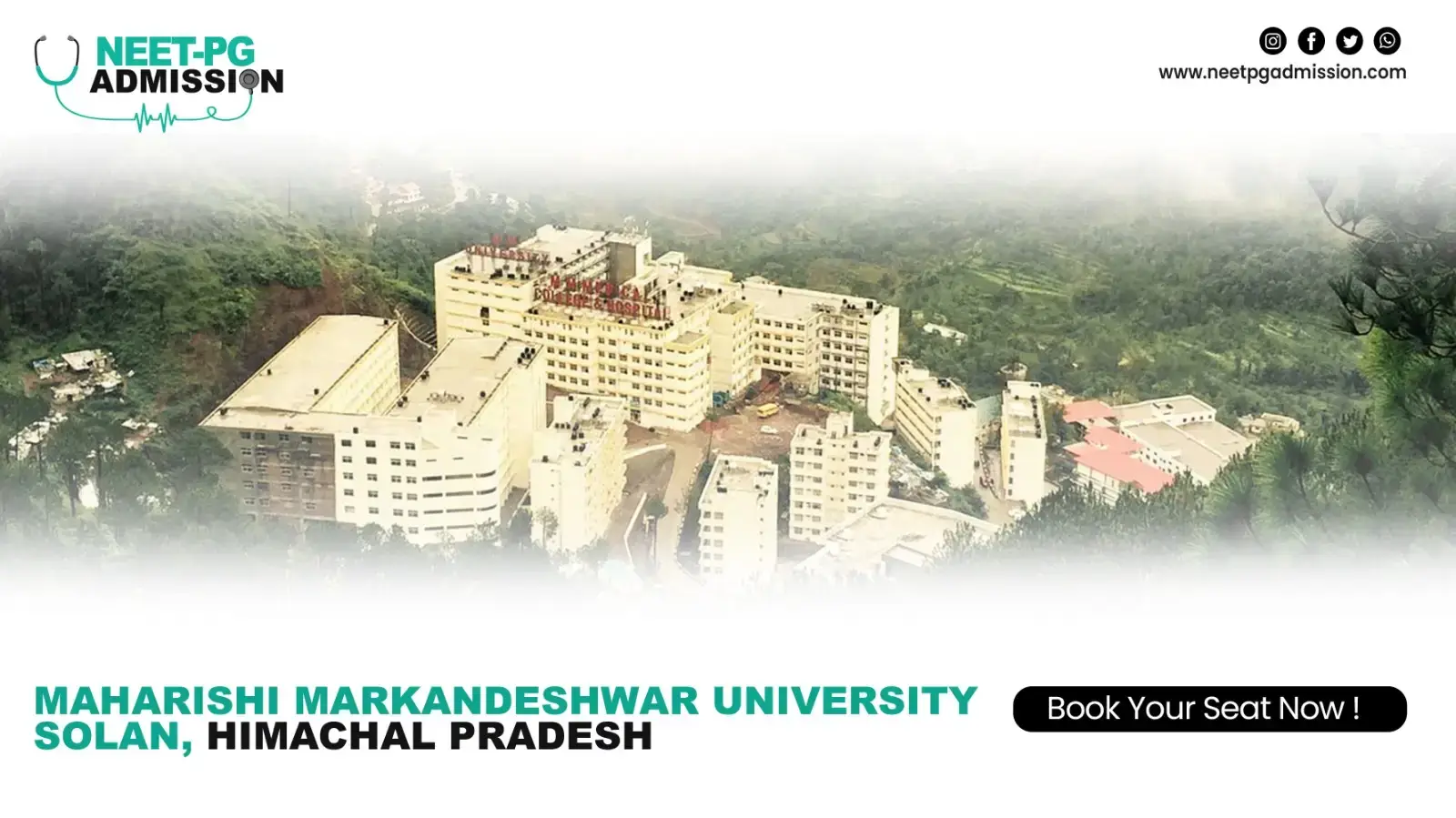 The lush Maharishi Markandeswar University covers an area of 47 hectares and is surrounded by the exotic environment of green hills. Ideally, it's on the "Devbhoomi" lap of the Chandigarh Simura National Highway on Sultanpur Road in Solan (H.P.). "Of the great Himalayas. University scholars started in 2010.

The university has ample space on 47 hectares of land surrounded by green hills. The university is located on the Chandigarh Shimla National Highway on Sultanpur Road in Solan. It provides students with quality education in all relevant areas. Universities aim to develop students by providing quality education and also encourage students to become innovators, researchers, managers, and entrepreneurs.

Maharasi Markandeswar Medical College and Hospitals, Solan has laboratories for students to actually apply their knowledge and present themselves. These labs are equipped with the latest technology and equipment.
The List of PG Branches available in Maharishi Markandeshwar University,Ambala are :-
Basic Details
| | |
| --- | --- |
| Name of college | Maharishi Markandeshwar Institute of Medical Science and Research Solan |
| Location | Bajoral Khurd, Solan, Himachal Pradesh 173212 |
| Establishment year | 2010 |
| Institute type | Deemed |
| Affiliation | UGC, AICTE, MMU |
| Approval | Approval Medical Council of India under Maharishi Markandeshwar University |
| Website | www.mmusolan.org |
PG Courses Details
IN MMU, Solan offers courses, in 21 disciplines, postgraduate courses (M.D./M.S. and Post Graduate diploma) are offered, as well as super specialized courses (D.M/MCh) in 4 disciplines.
Courses
Duration
Seat Capacity
MD Anaesthesiology
3 Years
10
MD Anatomy
3 Years
3
MD Biochemistry
3 Years
3
MD Community Medicine
3 Years
5
MD General Medicine
3 Years
10
MD Microbiology
3 Years
3
MS Orthopedics
3 Years
6
MD Pharmacology
3 Years
3
MD Physiology
3 Years
5
MD Psychiatry
3 Years
2
MS General Surgery
3 Years
10
MD Dermatology
3 Years
3
MD Pediatrics
3 Years
6
MD Pathology
3 Years
5
MD Radio Diagnosis
3 Years
7
MD Respiratory Medicine
3 Years
2
MS ENT
3 Years
0
Obs & Gynae
3 Years
6
MS Forensic Medicine
3 Years
3
MMU, Solan Fees & Eligibility
The PG medical courses fees at MMU, Solan are listed below
| | |
| --- | --- |
| Courses | Fees |
| M.D | 27,17,000/-p.a |
| M.S | M.S 34,95,000/-p.a |
Hostel Fees
| | |
| --- | --- |
| Courses | Fees(Hostel+Mess) |
| PG (MD,MS) | PG (MD,MS) 1,50,000/- (Double) & 2,50,000/- (Single) |
Life at MMU Solan
Hostel
The university makes every effort to provide the best service and facilities at the hostel. To make the student's stay comfortable, they are always involved in organizing various events, activities and celebrations at the hostel. Various sports and cultural clubs have been established to increase student participation and knowledge.

Maharishi Markandeshwa Medical College and Hospital, Solan has a separate common room for boys and girls to collect and exchange information and ideas.


Common Room
Maharishi markandeshwar Medical College and Hospital, Solan has a separate common room for boys and girls to collect and exchange information and ideas.
Library
The valuable library of the Institute has a wealthy series of textual content and reference books with a complete collection of approx. 27000 books and greater than 20000 e-books.
Dormitory
TThe Institute provides dormitory facilities for students and has separate dormitories for girls and boys.
Gym
The university has a gym for students.
Events
The university also organizes an annual event called Universum, allowing students to show their potential in one of the disciplines such as science, technology, art, and dance music. It can take up to 5 days.
10th and 10+2-mark sheet along with the passing certificate.
Migration and Character Certificate.
MBBS Degree Mark Sheet.
Attempt Certificate from First to Final Graduation Course Examination.
Internship Completion Certificate.
Registration Certificate issued by NMC/State Medical Council.
ID Proof (Aadhaar Card/ PAN Card/ Passport/ Driving License).
Caste certificate (OBC/ SC/ ST).
Entrance Exam Score Card.
4 Passport Sized Photographs.
4 Stamp Sized Photographs.
Medical Certificate.
Nationality certificate.
Proof of Registration as OCI (for Overseas Citizens of India).
AIU Certification is mandatory (for Foreign Nationals).
NOC from Ministry of Health, Govt. of India required (for Foreign Nationals).
Candidate must send/ submit in person, the above documents to the college office and must carry the originals documents along with the prescribed Tuition fees to the college for final admission procedures.
So for taking Direct Admission in D.Y. Patil Mumbai for your MD/MS Course contact us and our expert counselor will contact you soon.


Visit More Similar Colleges :