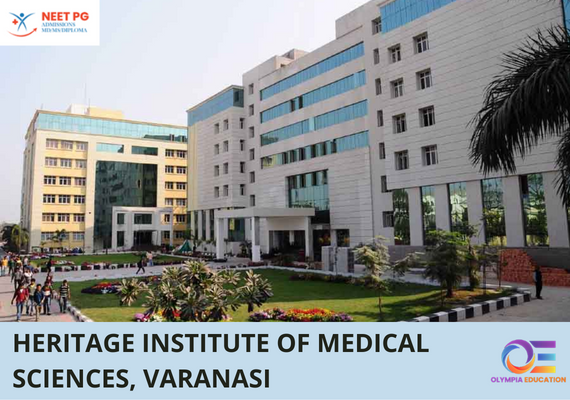 Heritage Institute of Medical Sciences, known as HIMS, was established in 2015. The campus is spread over 10 Lakh sq.ft. It is one of the largest colleges in Uttar Pradesh. HIMS is considered the top college in the Purvanchal for medical education.
HIMS follows the guidelines of the Medical Council of India(MCI). All the programs are affiliated with MGKVP University and have got approval from the Ministry of Health and Family Welfare, Government of India.
HIMS is one of the best colleges in the eastern part of UP. It has 700 beds that serve the entire area of Purvanchal. Leading Professors oversee the numerous departments and educate aspiring doctors using the most recent surgical, medical, and diagnostic expertise.
| | |
| --- | --- |
| Name of college | Heritage Institute of Medical Sciences, Varanasi |
| Location | NH2, GT Road Bypass, Bhadwar, Varanasi |
| Establishment year | 2015 |
| Institute type | Deemed |
| Affiliation | MGKVP University |
| Approval | National Medical Commission (NMC) |
| Website | Click |
| Gallary | Visit |
PG Courses Details
A total of 46 courses are offered at HIMS, Varanasi, including diploma, undergraduate, postgraduate and doctoral programs. We are considering only PG courses, which are listed below with seats and Fees.
| Courses | Duration | Seat Capacity | Fees |
| --- | --- | --- | --- |
| MD Anaesthesiology | 3 Years | 5 | Rs. 25,00,000 |
| MD Anatomy | 3 Years | 3 | Rs. 2,00,000 |
| MD General Medicine | 3 Years | 3 | Rs. 48,00,000 |
| MD Microbiology | 3 Years | 1 | Rs. 5,00,000 |
| MS Orthopedics | 3 Years | 3 | Rs. 40,00,000 |
| MD Pharmacology | 3 Years | 2 | Rs. 5,00,000 |
| MS General Surgery | 3 Years | 3 | Rs. 38,00,000 |
| MD Pathology | 3 Years | 6 | Rs. 12,00,000 |
| MD Radio Diagnosis | 3 Years | 4 | Rs. 75,00,000 |
| MD Respiratory Medicine | 3 Years | 3 | Rs. 40,00,000 |
| MS ENT | 3 Years | 2 | Rs. 30,00,000 |
| Obs & Gynae | 3 Years | 4 | Rs. 48,00,000 |
| MS Ophthalmology | 3 Years | 2 | Rs. 30,00,000 |
HIMS also provide stipend for the PG student. That helps students to manage their expenses.
Hostel and Hostel fees
The hostel of Heritage College Varanasi is of decent quality. There is a bed, table, chair, and wardrobe for every student. All categories of rooms have private bathrooms.
A hostel is available based on your opinion. Two and three shearing rooms are offered. Even a mess is good. Many pgs are also available near colleges. You can also stay there. You can get tea and coffee for breakfast in the college mess, lunch, dinner, and an afternoon snack.
Hostel Fee:
| | |
| --- | --- |
| Courses | Fee |
| MS | Rs. 1,75,000/- Yearly |
| MD | Rs. 1,75,000/- Yearly |
Training and Placement department
Each year, several students graduate from the Heritage Institute of Medical Sciences. A Training and Placement Cell that oversees multiple programs and provides guidance for numerous student activities related to placement is kept active by the college.
Facilities
Library
On the campus, there is a fully air-conditioned central library with more than 28000 square feet of carpeting. The library offers an indoor reading room for kids and employees and an outdoor reading space for 150 students. Students and employees have access to an internet facility with multiple clusters each. A sufficient quantity of recent medical books on various topics are available in the library, along with national and international scientific journals. Students and staff may use the library from 8:00 AM to 8:00 PM on all working days and from 9:30 AM to 5:00 PM on Sundays and holidays.
Laboratory
A well-equipped lab with 90 seats per one and associated ante rooms has been created for holding practical sessions following NMC standards. There are well-equipped laboratories, including those for microbiology, pathology, and biochemistry, among others.
Demo Room
All the preclinical and paraclinical departments have two demo rooms, each with 80-90 seating capacity and audiovisual aids.
Common Rooms
Separate well-furnished common rooms for boys and girls with attached toilets having 100 seating capacity each have been provided in the college block.
Sports and Events
The college organizes events regularly. There are both indoor and outdoor games that are played, such as volleyball, badminton, and cricket. There is access to a gym. There are additional auditoriums for all kinds of activities.
Transportation
HIMS Varanasi runs bus services for the students who reside at their homes or outside the hostel. The fleet of modern buses is fitted with new-age technology like CCTV and Wi-Fi for safety and easy accessibility to the Internet.
Gym
Students at HIMS have access to a fitness center on campus. Each student must be prepared both mentally and physically. The health columbarium is open to all the students who reside inside the campus. Trainers can also direct and assist faculty members and students throughout their workout sessions.
There are more facilities are available are given below.
Auditorium
Cafeteria
Gymnasium
Doctors residence
Mess
Computer labs
Skill labs
Recreation Facilities
Campus Tour
The List of PG Branches available in Heritage Institute of Medical Sciences, Varanasi are:
Candidate should obtain permanent registration with the NMC or any State Medical Council within one month from the date of admission, failing which the candidate's admission shall be canceled.
Candidates must carry these documents listed below before filling the application form:
10th and 10+2-mark sheet along with the passing certificate.
Migration and Character Certificate.
MBBS Degree Mark Sheet.
Attempt Certificate from First to Final Graduation Course Examination.
Internship Completion Certificate.
Registration Certificate issued by NMC/State Medical Council.
ID Proof (Aadhaar Card/ PAN Card/ Passport/ Driving License).
Caste certificate (OBC/ SC/ ST).
Entrance Exam Scorecard.
Four Passport Sized Photographs.
Four Stamp Sized Photographs.
Medical Certificate.
Nationality certificate.
Proof of Registration as OCI (for Overseas Citizens of India).
AIU Certification is mandatory (for Foreign Nationals).
NOC from Ministry of Health, Govt. of India required (for Foreign Nationals).
Candidate must send/submit in person the above documents to the college office and carry the original documents along with the prescribed Tuition fees to the college for final admission procedures.
Candidates looking for admission in MD/MS must complete his Compulsory Rotatory Residential Internship on or before March 31 2024.
So for taking Direct Admission in Heritage Institute of Medical Sciences, Varanasi for your MD/MS Course contact us and our expert counselor will contact you soon.
Visit More Similar Colleges :