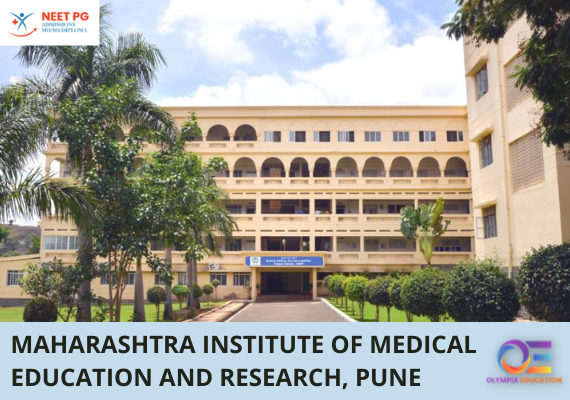 Maharashtra Institute of Medical Education and research college, Pune is popularly known as MIMER. It was established in the year of 1995 at Talegain Dabhade, near Pune.

The institution was formerly associated with the University of Pune but is now part of Maharashtra University of Health Sciences Nashik and is accredited by the NMC.

It is considered as the one of the best colleges in Pune. it has capacity of 570 bed and bed occupancy is 81%. It has also ratio of student and patient is 1:8.5 which give amount of time to practice medical.

Basic Details
| | |
| --- | --- |
| Name of college | Maharashtra Institute of Medical Education and Research, Pune |
| Location | Talegaon, Dabhade, Pune |
| Establishment year | 2005 |
| Institute type | Private |
| Affiliation | Maharashtra University of Health Sciences, Nashik |
| Approval | National Medical Commission (NMC) |
| Website | Offical Website |
PG Courses Details
Under the guidance of a highly qualified professor and state-of-the-art facilities, MIMER offers the fine of medical programs. Here is all the information about the cost and length of the course. Prices vary depending on the course.Here are all the details about the course duration of the course and fees. Fees vary with courses.
Courses
Durtion
Fees
MD Anatomy
3 Years
7,00,000/-
MD Anaesthesia
3 Years
37,67,999/-
MS General Surgery
3 Years
37,67,999/-
MD Community Medicine
3 Years
2,92,999/-
MS Orthopedics
3 Years
37,67,999/-
MD General Medicine
3 Years
37,67,999/-
MD Microbiology
3 Years
2,92,999/-
MD Biochemistry
3 Years
2,92,999/-
MD Pathology
3 Years
19,67,999/-
MS ENT
3 Years
37,67,999/-
MS Obs & Gynae
3 Years
37,67,999/-
MS Ophthalmology
3 Years
37,67,999/-
MS Dermatology(DVL)
3 Years
37,67,999/-
MD Psychiatry
3 Years
37,67,999/-
MD Pharmacology
3 Years
2,92,999/-
MD Opththalmology
3 Years
37,67,999/-
Facilities
Hostel and Hostel fees
MIMER Pune has separate hostel facility fot boys and girls, and each hostel has a warden to oversee day-to-day operationsAs a part of the hostel fare, every hostel has its personal mess that serves sanitary and nourishing food 3 instances every day with a varied menu that pleases a number of palates. Every location has been deliberate to provide sufficient area for motion in addition to plenty of air and light.
For PG student there is 21 seprate rooms for each with the capacity of 63 boys and 51 for girls
| | |
| --- | --- |
| Courses | Fee |
| MS | 1,90,000/- |
| MD | 1,90,000/- |
Library
MIMER Pune is well-equipped library with the most recent editions of prescribed textbooks as well as reference books.

It has a separate reading area for undergraduate students, graduate students, and teaching staff. The library's well-trained staff contributes to its smooth operation. Beneficiaries can use the reading room 24 hours a day, seven days a week.
Best thing of MIMER Pune is it has a Digital Library
Students and faculty have access to a digital lab with full Internet access and cutting-edge computer systems. Users can access medical literature published in various journals/periodicals and other sources through this site.
Laboratory
The institute has laboratories that allows students to learn and practise their subject. The lab is outfitted with high-tech devices and machines.Lab is spread in the area 6 of 225 sq. mtr. and 2 of 90 sq. mtr.
Conference Hall
The Conference hall is fully equipped for presentations, with a full range of audiovisual capabilities and central air conditioning. It is frequently used for lectures, conferences, seminars, workshops, symposia, and other institute-related events.
Sports and Events
College has alltype stadium for indoor and outdoor games like table tennis, badminton, football, basketball, Volley ball, Cricket, Hockey etc. College appreciate their students to stay fit.
Transportation
Transportation is good on MIMER runs bus services for the students who reside at their homes or outside the hostel. There modern buses are deployed with new age technology. .
Gym
On campus, MIMER has a fitness centre for students.College believes that every student must be physically and mentally prepared. Students are welcome to visit the Gym whenever they want.
There are more facilities are available are given below.
Skill Lab
Blood Bank
Museum
Cafeteria
24 x 7 CCTV surveillance system.
Hygienic mess facilities.
Lift facility with backup.
24 x 7 hours uninterrupted power supply.
24 x 7 Ambulance facility .
Laundry facility.
Two wheeler parking
Newspapers and magazines provided to students on demand.
Campus Tour
The List of PG Branches available in Maharashtra Institute of Medical Education and Research(MIMER), Pune are :-
Candidates must carry these documents listed below before filling the application form:
10th and 10+2-mark sheet along with the passing certificate.
Migration and Character Certificate.
MBBS Degree Mark Sheet.
Attempt Certificate from First to Final Graduation Course Examination.
Internship Completion Certificate.
Registration Certificate issued by NMC/State Medical Council.
ID Proof (Aadhaar Card/ PAN Card/ Passport/ Driving License).
Caste certificate (OBC/ SC/ ST).
Entrance Exam Scorecard.
Four Passport Sized Photographs.
Four Stamp Sized Photographs.
Medical Certificate.
Nationality certificate.
Proof of Registration as OCI (for Overseas Citizens of India).
AIU Certification is mandatory (for Foreign Nationals).
NOC from Ministry of Health, Govt. of India required (for Foreign Nationals).
Candidate must send/submit in person the above documents to the college office and carry the original documents along with the prescribed Tuition fees to the college for final admission procedures.
Maharashtra Institute of Medical Education and Research, Pune offers MD and MS programs in various specializations at postgraduate level. Admission to MS and MD programs on basis of NEET score. The minimum eligibility criteria for taking admission in these courses require the candidate to have scored at least 50% aggregate marks in MBBS from an Institute recognized by Medical Council of India.
So for taking Direct Admission in "Maharashtra Institute of Medical Education and Research, Pune" for your MD/MS Course contact us and our expert counselor will contact you soon.


Visit More Similar Colleges :