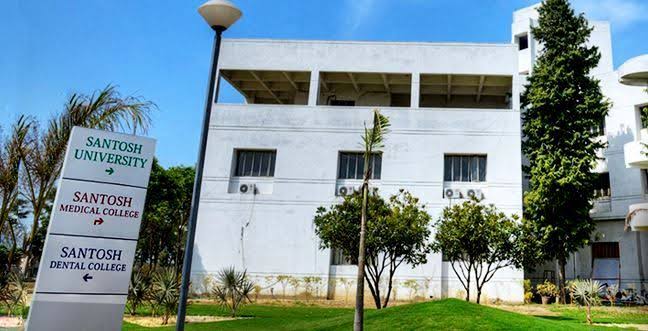 Santosh University is the Premium Medical University is an institute of higher education located in Ghaziabad . Santosh Medical College and Hospital is among the best educational institutions and aims to achieve excellence in medicine practice with prime focus on serving the humanity. Established in 1995, Santosh Medical College and Hospital provides top class education in the field of medicine. The educational institution rose to prominence stand amongst the best medical colleges in India. The Medical University has Santosh Hospital which is a premier 700 bedded hospital in the heart of Ghaziabad.

To provide quality in general, specialist and super-speciality medical care at highly subsidised rates to one and all is the motto. It is an endeavour at Santosh hospital to ensure that every person has access to health care facilities when in need and in doing so, to help further establish a healthcare system that attends to the needs of our developing country. And Students too get a ambience of working and specializing themselves by treating and dealing with real time patients. School of Medical Sciences and Research in Santosh University offers MD and MS programs in various specializations at postgraduate level. Admission to MS and MD programs on basis of NEET score. The minimum eligibility criteria for taking admission in these courses require the candidate to have scored at least 50% aggregate marks in MBBS from an Institute recognized by Medical Council of India.
| | |
| --- | --- |
| Name of college | Santosh Medical College, Ghaziabad |
| Location | Santosh Nagar, Pratap Vihar, Ghaziabad |
| Establishment year | 1995 |
| Institute type | Deemed |
| Affiliation | Santosh University, Ghaziabad |
| Approval | National Medical Commission (NMC) |
| Website | www.santosh.ac.in |
| Gallary | Visit |
PG Courses Details
A total of 27 courses are offered at Santosh Medical College and Hospital, Ghaziabad, including diploma, undergraduate, postgraduate and doctoral programs. We are considering only PG courses which are listed below with seat capay and Fees.
| Courses | Durtion | Seat Capacity | Fees |
| --- | --- | --- | --- |
| MD Anaesthesiology | 3 Years | 7 | 25,00,000 |
| MD Anatomy | 3 Years | 5 | 2,00,000 |
| MD Biochemistry | 3 Years | 1 | 2,00,000 |
| MD Community Medicine | 3 Years | 2 | 5,00,000 |
| MD General Medicine | 3 Years | 5 | 48,00,000 |
| MD Microbiology | 3 Years | 3 | 5,00,000 |
| MS Orthopedics | 3 Years | 3 | 40,00,000 |
| MD Pharmacology | 3 Years | 4 | 5,00,000 |
| MD Physiology | 3 Years | 5 | 2,00,000 |
| MD Psychiatry | 3 Years | 5 | 30,00,000 |
| MS General Surgery | 3 Years | 10 | 38,00,000 |
| MD Dermatology | 3 Years | 3 | 65,00,000 |
| MD Pediatrics | 3 Years | 7 | 45,00,000 |
| MD Pathology | 3 Years | 4 | 12,00,000 |
| MD Radio Diagnosis | 3 Years | 8 | 75,00,000 |
| Obs & Gynae | 3 Years | 4 | 48,00,000 |
Santosh Medical College provide stipend for the PG student of amount Rs. 56,010 Permonth . That helps students to manage their expenses.
Hostel and Hostel fees
Hostel Hostel is considered as the home for the students. The university offers its students private bathrooms and separate living quarters for men and women. Moving to a new place may be a frightening experience, and all anyone wants is to feel safe and at home. College offers completely furnished dorm rooms for boys and girls that are created with a thorough awareness of students' needs and serve as a comfortable home away from home. For the convenience of the students, a variety of housing alternatives are available, with separate blocks for girls and boys and each block having a fixed capacity.
| | |
| --- | --- |
| Type of Rooms | Fee |
| Twin Sharing (Non AC) | 2,00,000/- Yearly |
| Twin Sharing (AC) | 3,00,000/- Yearly |
| Single Sharing (Non AC) | 3,00,000/- Yearly |
| Single Sharing (AC) | 4,00,000/- Yearly |
Santosh Campus is highly secure when it comes to security.
Biometric attendance
360 CCTV surveillance
Emergency Response Team
Central residence Monitering
Life at Santosh Medical
Library
Santosh medical college belives that the Libraries exist to ensure that information and technology are accessible to all people, not just those who can afford their own. This is more than just charitable effort; it contributes to improving society's educational standards. The Central Library of Santosh Deemed to be University provides such a beautiful service. For the purpose of providing its services to the students and employees, the university has also shifted toward automated services with technology support. Library has large range of book related to medical science. Here are the numbers of Books
Books-16,051
Title-4,759
Current Journals-105
Data Base-9
Laboratory
The efficient practice of modern medicine rests on a base support of a sound diagnostic backup facility. The diagnostic laboratory of Santosh Hospitals is equipped with the latest state of the art equipments for its Biochemistry, Pathology & Microbiology Divisions.
Sports
Santosh Considered to be University is committed to helping students develop their overall personalities. Along with emphasising various co-curricular and extracurricular activities for the children, it concentrates on giving the students the best education possible. As the proverb goes, "Health is Wealth." To that end, the university hosts a number of intramural sporting events under the banner of "AURA," an annual occasion. The university encourages students to compete in a variety of sports and games that are held off-campus as well
Cafeteria
Cafeteria is the place for hangout for the students. College regulates the Cafeteria make sure that quality should be maintain of luck, snacks and beverages.
Gym
All day long, Santosh Medical College in Ghaziabad offers teachers, staff, and students access to its gymnasium. The gym is fully air-conditioned and furnished with all the tools required to carry out any workouts and activities. Trainers are also available to direct and assist faculty members and students throughout their workout sessions.
Campus Tour
DY Patil University is an eventful campus. Here are some of those mentioned.
The List of PG Branches available in Santosh University are :-
Candidate should obtain permanent registration with the NMC or any of the State Medical Council within one month from the date of admission, failing which the admission of the candidate shall be cancelled.


Candidates must carry these documents listed below before filling the application form:
10th and 10+2-mark sheet along with the passing certificate.
Migration and Character Certificate.
MBBS Degree Mark Sheet.
Attempt Certificate from First to Final Graduation Course Examination.
Internship Completion Certificate.
Registration Certificate issued by NMC/State Medical Council.
ID Proof (Aadhaar Card/ PAN Card/ Passport/ Driving License).
Caste certificate (OBC/ SC/ ST).
Entrance Exam Scorecard.
Four Passport Sized Photographs.
Four Stamp Sized Photographs.
Medical Certificate.
Nationality certificate.
Proof of Registration as OCI (for Overseas Citizens of India).
AIU Certification is mandatory (for Foreign Nationals).
NOC from Ministry of Health, Govt. of India required (for Foreign Nationals).
Candidate must send/submit in person the above documents to the college office and carry the original documents along with the prescribed Tuition fees to the college for final admission procedures.
So for taking Direct Admission in Santosh University for your MD/MS Course contact us and our expert counselor will contact you soon.


Visit More Similar Colleges :
SGT Grugram
|
Sharda University
|
Jamia Hamdard New Delhi