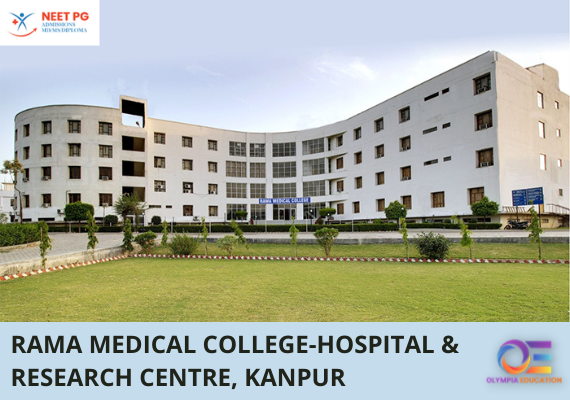 R.M.C is one of the top medical College in the state of Uttar Pradesh and official name is Rama Medical College-Hospital & Research Centre. It was founded in Kanpur in the year 2008.

The Medical College occupies more than 25 acres of land, which is dispersed across a campus that is more than 70 Acres in size. The college offers the best medical education and training using both traditional and modern approaches, taking full advantage of all available technologies.

Basic Details
| | |
| --- | --- |
| Name of college | Rama Medical College Hospital and Research Center,Kanppur |
| Location | Kanpur, Uttar Pradesh India |
| Establishment year | 2008 |
| Institute type | Private |
| Affiliation | Rama University, Lucknow |
| Approval | National Medical Commission (NMC) |
| Website | Offical Website |
| Virtual Visit | Click |
PG Courses Details
Rama medical college offer all courses UG and PG. we are giving all the details of PG course likes seat, fee structure and duration of the courses.


| Courses | Durtion | Tuition Fee | Security Deposit | Misc. |
| --- | --- | --- | --- | --- |
| MS (General Medicine) | 3 Yeras | 21,35,358 | Rs. 5,00,000 | 1,28,400 |
| MS (General Surgery) | 3 Yeras | 21,35,358 | Rs. 5,00,000 | 1,28,400 |
| MD (Anaesthesiology) | 3 Yeras | 21,35,358 | Rs. 5,00,000 | 1,28,400 |
| MD (Dermatology) | 3 Yeras | 21,35,358 | Rs. 5,00,000 | 1,28,400 |
| MD (Paediatrics) | 3 Yeras | 21,35,358 | Rs. 5,00,000 | 1,28,400 |
| MD (Phychiatry) | 3 Yeras | 21,35,358 | Rs. 5,00,000 | 1,28,400 |
| MD (Radio-Diagnosis) | 3 Yeras | 21,35,358 | Rs. 5,00,000 | 1,28,400 |
| MD (Respiratory Medicine) | 3 Yeras | 21,35,358 | Rs. 5,00,000 | 1,28,400 |
Starting in their first academic year, RMC,Kanpur offers a stipend to PG students pursuing clinical specialisation.
1st Year: Rs. 30,000/- (Per Month).
2nd Year: Rs.35,000/- (Per Month).
3rd Year: Rs.40,000/-(Per Month).
Facilities
Hostel and Hostel fees
There is a two-seater rooms, AC and Non AC is available .Hostel Provide beds, mattresses, study tables, and chairs from the college. There is a bathroom nearby. Both boys and girls has separate hostel. All people must reside in hostels.
Each Room has spece for two students.
Room
Fee
Non AC
1,50,000/ - 1,75,000/-
AC
2,00,000/ - 3,00,000/-
Library
Every campus of the institution has a well-stocked library that includes both older issues and the most recent issues of important journals, which students and teachers routinely use. Here is a quick rundown of the different print and digital media.


Central Lab
A state-of-the-art medical skill lab was established by the Rama Medical College Hospital and Research Center administration in Kanpur, allowing medical students the option to hone their abilities on training manikins in a clinical or controlled environment with periodic improvements as needed. labs for 24 hour, well-equipped investigations. Radiology.
Conference Hall
The Auditorium includes central air conditioning and complete audiovisual capabilities. It is frequently utilised for lectures, seminars, workshops, conferences, symposia, and other activities associated with the institute.
Class Rooms
The RMC has a robust infrastructure. Here, courses are delivered in well-equipped classrooms by highly qualified faculty. Here, students are happy to read and learn. Colleges offer state-of-the-art facilities so that students can thoroughly comprehend and learn medicine.
Sports and Events
A basketball court, a cricket ground, and other sporting amenities are available at RMC College. The campus is fantastic. There are appropriate stadiums for both indoor and outdoor sports. Every year, RMC College hosts events on its campus.
Transportation
The college offers reliable transportation for both students and faculty and staff who live off-campus. For guests arriving by private vehicle as well as students, instructors, staff, and employees, there is ample parking accessible on campuses.
Gym
Students who enjoy working out can use the gym. College focuses on students' overall development.


More facilities at RMC Kanpur
M.R.I. and C.T. Scan.
Blood Bank.
Well equipped 24 hours investigation labs.
Radiology
Shopping complex in campus
Bank and ATM in campus.
Cafeteria
Campus Tour
The List of PG Branches available in Rama Medical College Hospital and Research Center, Kanpur :-
Candidates must carry these documents listed below before filling the application form :-



10th and 10+2-mark sheet along with the passing certificate.
Migration and Character Certificate.
MBBS Degree Mark Sheet.
Attempt Certificate from First to Final Graduation Course Examination.
Internship Completion Certificate.
Registration Certificate issued by NMC/State Medical Council.
ID Proof (Aadhaar Card/ PAN Card/ Passport/ Driving License).
Caste certificate (OBC/ SC/ ST).
Entrance Exam Score Card.
4 Passport Sized Photographs.
4 Stamp Sized Photographs.
Medical Certificate.
Nationality certificate.
Proof of Registration as OCI (for Overseas Citizens of India).
AIU Certification is mandatory (for Foreign Nationals).
NOC from Ministry of Health, Govt. of India required (for Foreign Nationals).
Candidate must send/ submit in person, the above documents to the college office and must carry the originals documents along with the prescribed Tuition fees to the college for final admission procedures.

RMC Kanpur offers MD and MS programs in various specializations at postgraduate level. Admission to MS and MD programs on basis of NEET score. The minimum eligibility criteria for taking admission in these courses require the candidate to have scored at least 50% aggregate marks in MBBS from an Institute recognized by Medical Council of India.


So for taking Direct Admission in "Rama Medical College Hospital and Research Center, Kanpur" for your MD/MS Course contact us and our expert counselor will contact you soon.


Visit More Similar Colleges :