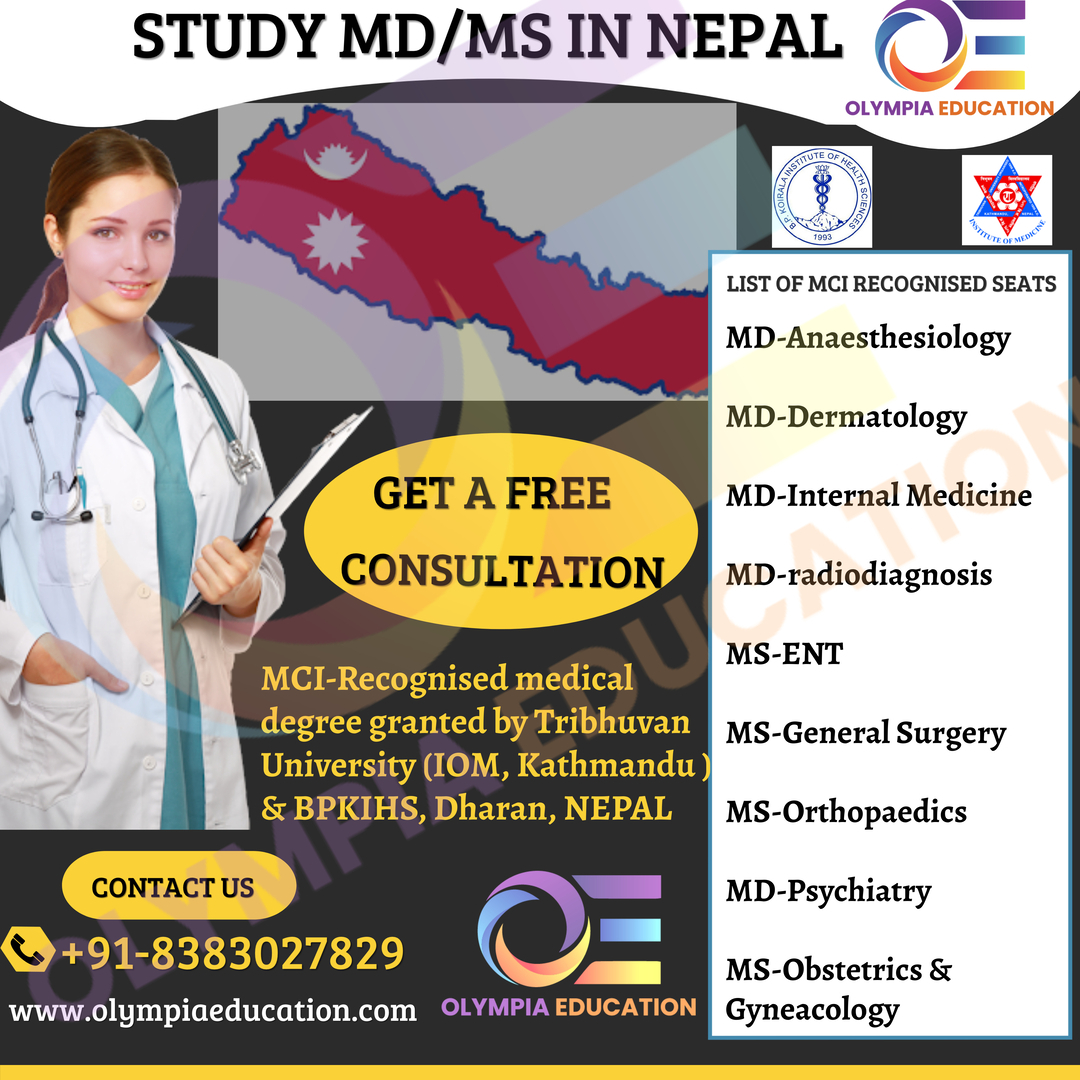 Admission Guidance For Indian Students:
Indian medical students, who want to study MD/MS in Nepal courses after graduation must have to check Nepalese institutions for Higher Medical education. Nepal seems a feasible place to study MD or MS because there are few Medical Council of India recognized institutions in Nepal that offer MCI recognized MD/MS seats. The Notification can be read at MCI official website.
Every year, thousands of successful medical practitioners, who completed the MBBS degree and one year in house training, apply for postgraduate study in India. However, very few become qualified to study MD or MS. Besides, Post Graduate Medical Admission rules and scenarios have changed a lot. All admissions are provided only through entrance exams. So they choose to study abroad. For this year, MD/MS in Nepal are conducted through MECEE. Medical Education Commission Entrance Examination.
Why To Choose MD MD in Nepal ?
There are so many benefits especially for Indian students to take MD MS admission in Nepal.
• MCI Recognized seats- There are various MCI recognized institutions in Nepal that offer similar course curriculum and pattern as directed by the NBE in India. Institutes provide higher quality of education as per the need of students and modern requirements.
• No Visa- Indian students do not need a visa or passport to study MD/MS in Nepal. Due to friendly relations among India and Nepal, Indian students don't require any Visa for admission purposes.
• Comfortable and pleasing weather-Medical university and institutes of Nepal provide a friendly environment at their campuses. In addition, their accommodation facility is also excellent. Hostels rooms are neat & clean and spacious.
• Curriculum almost similar to MCI- MD/MS course curriculum taught at Nepalese medical institutes are almost similar to Indian pattern. The structure of courses are organized.
• Quality education- Nepalese institutions deliver quality education to the students. Institutes are well equipped with modern learning and teaching facilities to provide an effective learning environment
• No language barrier- there is no barrier of communication in Nepal among foreigners. They speak both English and Hindi. Nepalese citizens are familiar with Indian culture, food, lifestyle and language. Thus, Indian students will adapt the living style and culture of Nepal.
• Connected with all major routes- Nepal is very well connected to Indian borders UP, Bihar, and west Bengal by bus. By air direct flight is available from Lucknow, Delhi, Bangalore, Mumbai etc.
• Economical living- Economical living is another factor that attracts Indian students pursuing postgraduate courses in Nepal. No other national is as economical as Nepal for Indian Students. From the cost of study to living, food and accommodation, everything is pocket friendly in Nepal.
Eligibility Criteria For Indian Students:
1. MBBS from any recognized university or any equivalent degree.
2.Completion of one year internship mandatory.
3. Candidates must be provincially registered with NMC for the study period in Nepal.
4. Should have registration with the Medical Council in the respective country.
5.Students must have passed MECEE PG entrance examination with minimum 50% marks.
Documents Required For MD/MS Admission In Nepal
1. 10th and 12th mark sheets and certificate, Original.
2. Original MBBS Degree and certificate should be transcripts in Nepalese.
3. Entrance Examination Admit card of current year.
4. Original certificate of registration with their respective medical council.
5. Migration certificate.
6. Conduct certificate.
7. Citizenship certificate such as Voter ID, passport, Adhaar card, Domicile Certificate, etc.
8. No Objection Letter issued by the Ministry of Health for MD/MS admission in Nepal if he/she has been working under the Ministry of Health.
List of Institutes in nepal:
Institute Of Medicine, Kathmandu (Tribhuvan University)

Institute of Medicine, Kathmandu is a reputed medical and healthcare institute in Nepal, regulated by Tribhuvan University. The institute was established with the ultimate objective of providing training in all categories in the healthcare sector and health related manpower required in Nepal. It was established in 1972. Within a decade of establishment, the institute developed and built 12 campuses across the country. Among these, 3 campuses are located in Kathmandu and 9 campuses are located outside the valley of Kathmandu.
IOM, Kathmandu MD MS Admission Process
Indian student's desires to study MD MS in Nepal at Maharajganj Medical Campus (Institute of Medicine), in Kathmandu Valley have to meet the requirements to join the institute.
All admissions to this institute are selected purely based on merits. Earlier, PG admission were provided on the basis of the entrance examination conducted by the IOM-Tribhuvan University but now it is totally based on the scores and performance of MEC Entrance Examination. Candidates must have to pass the examination to get admission in MD or MS courses.
1. Qualifying in the common entrance exam MECEE is mandatory.
2. No concession given to any students under any clause
You can get more information about the admission at www.iom.edu.np
Form Availability
Application forms for the courses will be available soon on the official website of MECEE for the academic session 2024. The Deadline for filling applications is To be announced. As mentioned earlier, students need not worry about approval by the Medical Council of India. These seats are approved by MCI. To know more information, you can visit here.
MD/MS Branches
. MS – ENT
. MS – General Surgery
. MS – Orthopedics
. MD – Anesthesia
. MD – Radio Diagnosis
. MD – Dermatology
. MD – Internal Medicine
Fee Structure Of Maharajganj Medical Campus
| MD/MS Programme Years | Nepalese Subsidized (7.5 % increment) | Paying Annual Increment(7.5 Increment) | Foreign Government Nominees | SAARC Candidates | Non-SAARC Candidates |
| --- | --- | --- | --- | --- | --- |
| 1st year | 1,52,115.00 | 7,61,350.00 | 17500.00 | 22,500.00 | 25,000.00 |
| 2nd year | 62,673.00 | 7,38,950.00 | 8,750.00 | 11,250.00 | 12,500.00 |
| 3rd year | 62,673.00 | 7,38,950.00 | 8,750.00 | 11,250.00 | 12,500.00 |
| Total | NRs.277461.00 | NRs.22,39,250.00 | USD 35,000.00 | USD 45,000.00 | USD 50,000.00 |
BP Koirala Institute Of Health Sciences, Dharan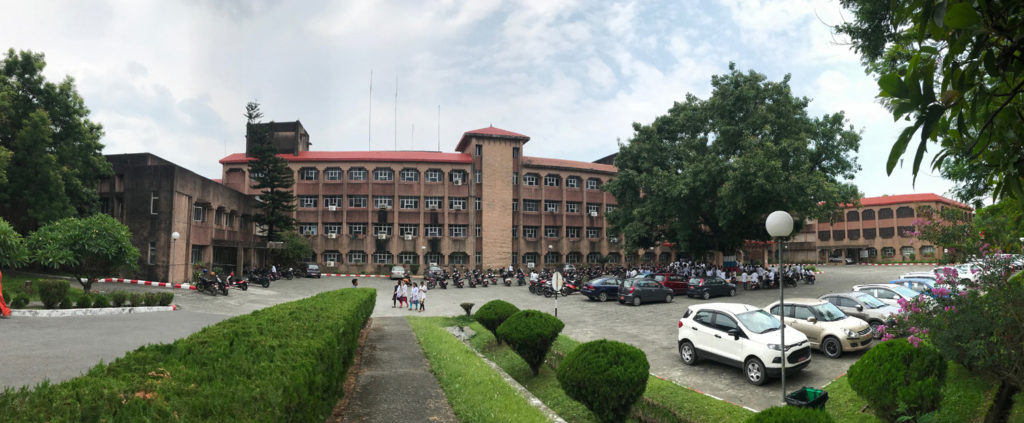 BPKIHS, one of the reputed institutes in Nepal was established in 1993. In five years, the institute was upgraded as Health Science University (autonomous). The university committed towards improving healthcare workforce, social development, focusing on research, and providing health care services.
The institute is named after the visionary leader of Nepal, Bisheshwar Prasad Koirala. BPKIHS institute envisaged a successful India – Nepal Co-operation. Health Ministers of both the countries have signed an agreement to establish BPKIHS.
All postgraduates programs are started in the year 1999. All the PG medical degrees offered by this university are duly recognized by Nepal Medical Council and related medical councils.
BPKIHS, Nepal MD MS Admission Process
Before the MEC Entrance Examination, the university conducts its own entrance exam for MD and MS. Separate exams are conducted for Indian students. However from year 2024 MECEE is a common entrance examination conducted by the Nepal Medical Education Board to provide MD/ MS in Nepal. Admission is provided purely on the basis of merit, basis of the rank. Application form to entrance exam and admission is available in the month of September every year. The entrance exam is conducted in the month of October every year.
Application Form
Application form for the MECEE will be available on offical website
Offered Branches
The institute offers MS and MD courses in anaesthesiology, dermatovenerology, radio-diagnosis, paediatrics, psychiatry, orthopaedics and clinical pharmacology.
. MS ENT
. MS General Surgery
. MS Orthopaedics
. MS OBG
. MD Anaesthesia
. MD Radio-diagnosis
. MD Dermatology
. MD General Medicine
. MD Pediatrics
. MD Psychiatry
. MD Pharmacology
Since the course curriculum is very similar to Indian medical system, Indian students can easily get admission to MD MS in Nepal. Cost of education is very low when compared with India.
Fee Structure
The Junior Resident (International Candidates) shall pay the fees as follows:
Serial No.
Particulars
Amount to be paid
Frequency
1.
Registration fee
USD 435.00
One time
2.
Library fee
USD 130.00
Per year
3.
Laboratory fee
USD 85.00
Per year
4.
Student welfare Fund
USD 66.00
Per year
5.
Tuition fee as described below-PharmacologyPsychiatry Anesthesiology and Critical care medicineOtorhinolaryngology and Head and Neck Surgery Gynecology and Obstetrics, Internal Medicine, Pediatrics & Adolescents and SurgeryRadio diagnosis and Imaging Dermatology and STD, Orthopaedics
10000 USD30000 USD
30000 USD
30000 USD
50000 USD
55000 USD
Per year
Per year
Per year
Per year
Per year
6.
Examination fee
200.00 USD
Per year
7.
Supplementary Exam fees
200.00 USD
Per year
8.
Thesis Evaluation fee
400.00 USD
One time
9.
Deposits (Refundable)Library, laboratory, etc.
550.00 USD
One time
10.
Health Welfare Scheme Charges
20.00 USD
Per year
11.
Nepal Medical Council fees
As per the council rules
One time
12.
Life Insurance fee (covering a sum of Rs. 5,00,000/-)
20.00 USD
Per year